**Junior Programs have concluded for the 2022 season. Information for 2023 programs will be posted in March. Please check back** At Victoria Park Golf Club, we pride ourselves on creating fun atmosphere where young golfers can learn and grow into the game of golf. We offer a variety of programs at both Victoria Park East and Valley, which cater to Junior golfers of all ages or abilities. We believe that learning to golf is a gift that parents give their children—something that can be enjoyed throughout their lifetime.
Children will receive instruction from CPGA professionals. Please click on the tabs below to learn about the various junior golf programs at both courses.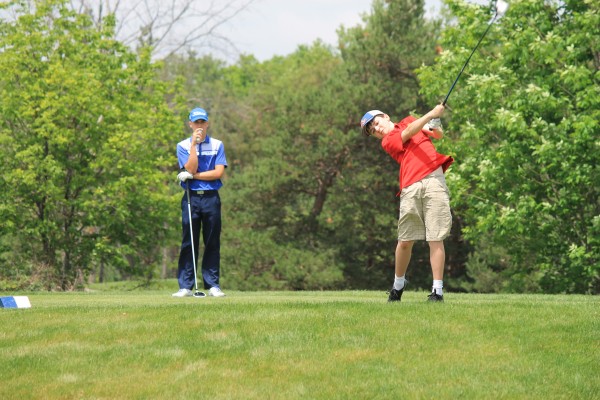 Junior Golf Camps
The Junior Camp will introduce and educate your child to the great game of golf. The outdoor camp is open to boys and girls age 8-16, designed for golfers of Beginner to Intermediate ability levels. All camps run weekly during July and August, are co-ed, and start at 8:30am to 12:00pm sharp each day.
Camp topics include rules, etiquette, equipment, and fundamentals of the golf swing. Junior Campers will cover the full swing, the short game, chipping, putting, and sand shots; plus, there will be some on-course golfing.
CLICK HERE TO REGISTER FOR JUNIOR CAMPS
Saturday Morning Junior Clinics
Starting April 16th (weather permitting) we will be available to begin a series of Junior Clinics focusing on fun and golf basics. These clinics are not just for beginners, as instruction will include all aspects of golf. Each session is good for one hour of instruction and driving range balls. To register, please call Victoria Park Valley after April 1st 519-821-1441.
2022 Prices
Single Session $25.00 plus HST
5 Sessions – $100 plus HST
Clinic Dates: Saturdays from April 16 to June 25, and September 10 to October 22 (weather permitting), 9:00 am – 12:00 pm.
Our instructors include Murray McLaren, a PGA of Canada professional for 33 years and Andrew Roosenboom, our Head Golf Professional and also a PGA of Canada. Please visit our contact page to book for private lessons or inquire about one of our programs at Victoria Park Valley in Guelph.
Learn to Compete (Currently Not Available)
"Learn to Compete" is an 6-week program designed to introduce Intermediate/Novice level juniors to advanced skills and drills in a competitive atmosphere. Weekly 1 hour sessions will have a specific focus on a golf skill followed by on-course challenges. We hope these juniors set new goals by advancing to higher levels of achievement and show escalating improvement in all aspects of the game. Each session will include an hour of coaching followed by some on course competition/practice.
2022 information will be posted at the end of March, please check back.