Online booking is off for the season. To book Simulator times, please call 519-821-2211.
"Sheik Shootout" Winners


Sunday September 16, the winning team of the annual "Sheik Shootout" is Lucas DeCorso (left) and Calum MacLeod (right), here with tournament organizer Sheik Bacchus.
September Field Day "Stableford" Winners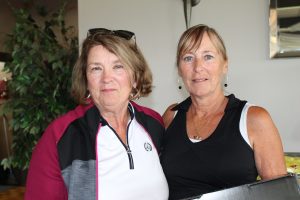 Lori Bishenden (right) with runner-up Louise Churchill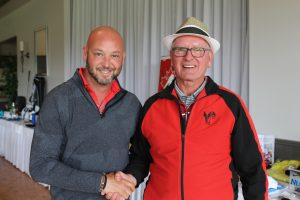 Doug Blair (right) with head professional Jay Pembleton
SENIOR CLUB CHAMPIONS AT VICTORIA PARK EAST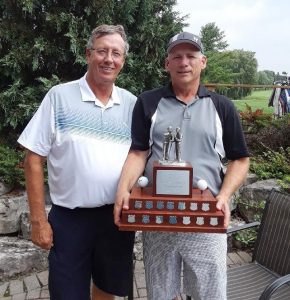 "Super Senior" Champion Harold Campbell (left) and Senior Champion Randy Doucette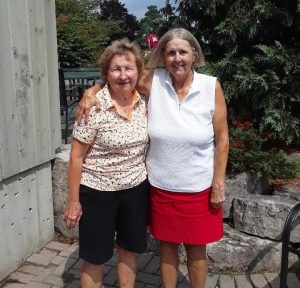 Senior Champion Donna Jackson (left) with runner-up Marie Cracknell
2018 Valley Club Champions (click pictures to enlarge)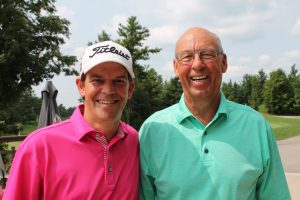 Club Champion Greg Clark (left) with runner-up Joe Hamley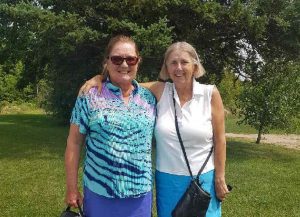 Club Champion Marija Boljkovac (left) with Low Net Champion Marie Cracknell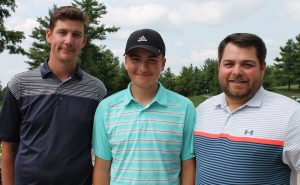 Junior 14+ Champion Nicholas Fairhall-Roy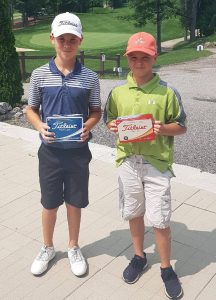 Junior Under 13 Champ Dylan Weber (left) and Low Net Champ Owen McFadden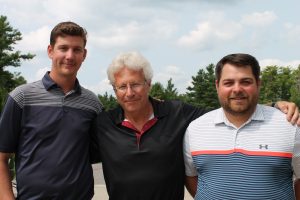 B Flight Champion Glenn Fair (centre) with Andrew Roosenboom and Scott Grimes (right)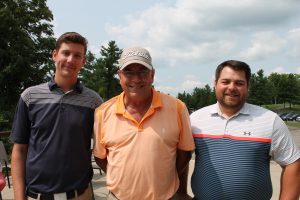 C Flight Champion Mark Olender (centre)
2018 Member Events
For the list of 2018 Member Events at the East course, please CLICK HERE
AUGUST FIELD DAY WINNERS

The August Field Day was held on Saturday the 18th. The Ladies competition was won by Donna Jackson, Barb MacLean and Marie Cracknell.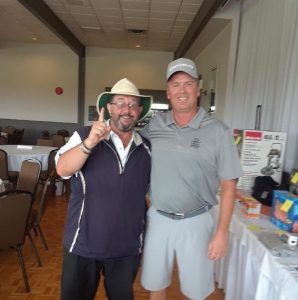 For the Mens game, Dave Betik and Craig Walker took top spot.
2018 East Club Champions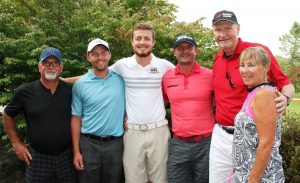 (Click on the picture to enlarge it)
Left to Right: C-Flight champ Paolo Sibbilin, A-Flight champ Kevin Dickson, Club Champion Lucas DeCorso, B-Flight Champion Jeff Graham, event sponsor Wally Escott of Speedpro Imaging Guelph, and Ladies Champion Lori Bishenden. Absent from photo: Ladies Net Champion Donna Jackson. To see the full scoring results, click the link at the top of this webpage.
JULY FIELD DAY WINNERS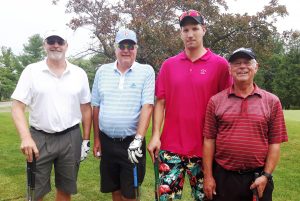 Alastair McCluskey, Hugh Martin, Paul Garton, Bob Cracknell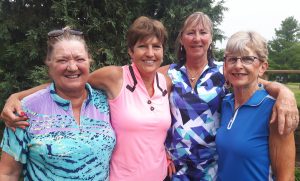 Marija Boljkovac, Mary Pat Garton, Lori Bishenden, Susan Hadaway
2018 GUELPH WISH FUND FOR CHILDREN
The annual Wish Fund charity tournament was held on Saturday July 7th. The members' Event in the morning was won by the team of Alan Arneill and Pat Johnson. Thanks to all participants, who raised just over $1000 for the Guelph Wish Fund!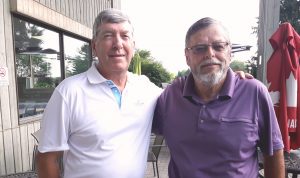 "Guys n' Gals" June 16 2018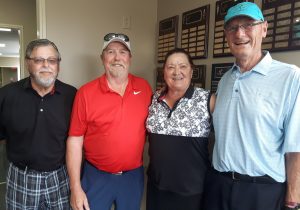 The winning team of the annual "Guys n' Gals" Tournament, left to right: Pat Johnson, Mike Jobb, Marija Boljkovac, and Don Rae. Lots of great scores, but theirs was the greatest!
June Field Day Winners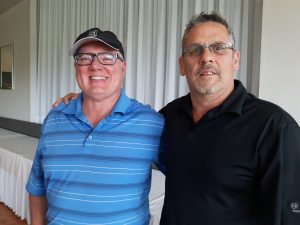 Congratulations to the Team of Ian McGinty (left) and Paul Azzopardi on their victory in the Mens competition.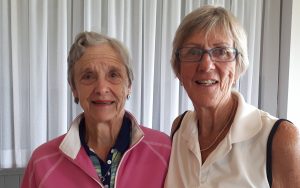 The Ladies event was won by the team of Judy Waldrum and Joanne Shaw. Great shooting!
May Field Day Winners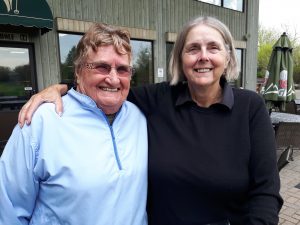 The victorious Ladies Team in the May Field Day was the team of Jo Rider (left), Marie Cracknell, Barbara MacLean and Mary Pat Garton. (sorry Mary Pat and Barbara, I got there too late to get you in the picture!)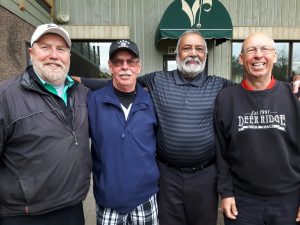 The winning Mens squad was (left to right) Mike Jobb, Don Reid, Sheik Bacchus and Joe Hamley.